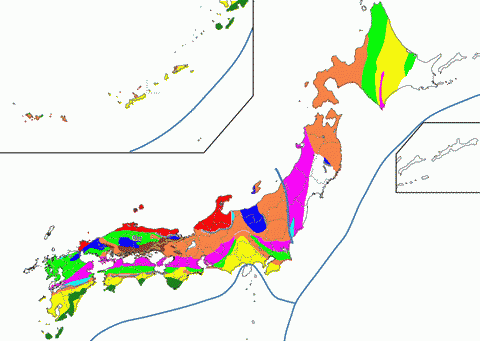 Gological Unit Database Search in the outdoors!
Sedimentary facies
Sedimentary systems and sedimentary facies are summaried.
Localities described below may be now closed to collecting by authorities or land owners.
Shallow marine
(Terrestrial)
Shelf edge
(Deep sea)
(Terrestrial)
Shelf edge
(Deep sea)
(Terrestrial)
Surf zone
Shelf edge
(Deep sea)
Deep sea
(Shelf)
Upper inner trench slope
Forearc basin
Submarine elevations
Lower inner trench slope
Trench floor / Trench axis
Outer trench slope
(Abyssal plain)
Submarine volcano
in situ Hyaloclastite
Reworked hyaloclastite
Pillow lava
Pseudo-pillow lava
Ocean-River boundary
(Downstream river)
(Inner shelf / Outer shelf)
Terrestrial
Braided river (Upperstream and Downstream river)
(Downstream river)
Delta plane (above water level)
Delta terrace (below water level)
Delta front
Prodelta
Prodelta slope
Terrestrial volcano
Volcanic mud flow
Debris avalanche
Pyroclastic surge
Base-surge
Block-and-ash-flow
Pyroclastic flow
Vent-fill
Copyright (c) 2018 NariNari, All Rights Reserved.