Kyowa-Arakawa, Daisen city, Akita pref., Japan
This locality is closed to collecting.
Source for silicon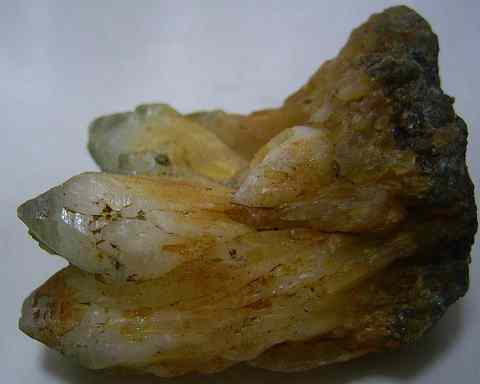 Length: 40 mm. A group of quartz. The hexagonal opaque white prisms are quartz. The left end of prisms is terminated by pyramidal facies of quartz. The green tip of prisms is due to chamosite inclusions. The right side is the vein wall.

Recovered from an open space of a quartz vein in a moderate-temperature hydrothermal deposit in andesitic pyroclastics formed by dacite probably associated with volcanic activity of a caldera. Formed in the middle Miocene (15 Ma).

Quartz from this location was described in 1893.

Copyright (c) 2021 NariNari, All Rights Reserved.