Higashi-Akatani, Shibata city, Niigata pref., Japan
Source for silicon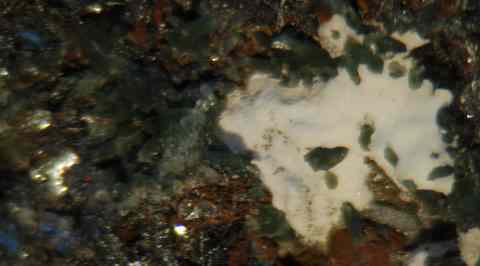 Width: 20 mm. Green quartz associated with hematite. The dark green parts are green quartz. The platy black crystals with a metallic luster are hematite. The massive reddish-brown parts are aggregate of fine hematite crystals. The white part is clay filling an open space.

Recovered from a moderate-temperature hydrothermal deposit and the oxidative metazomatic zone combined with skarn formed by contact metamorphism of the S-type (Ilmenite-series) granodiorite. Formed in the early Miocene (21 Ma).

Quartz from this location was described in 1952.

Copyright (c) 2020 NariNari, All Rights Reserved.