Kyowa-Arakawa, Daisen city, Akita pref., Japan
This locality is closed to collecting.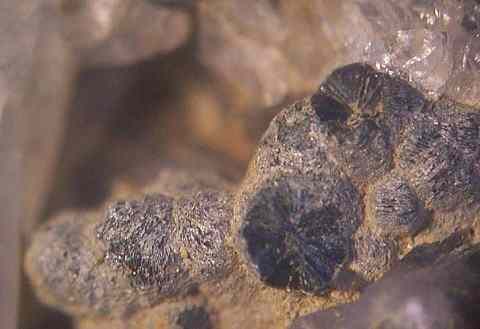 Field of view: 5 mm. A botryoidal group of chamosite perched on quartz. The botryoidal grayish-green group of radial aggregates of platy crystals is chamosite. The surface of the botryoidal group is light gray, whereas platy chamosite is dark green. Chamosite exhibits cleavage along the basal plane (001). The translucent white basement is gangue quartz.
Recovered from an open space of a quartz vein of a moderate-temperature hydrothermal deposit in andesitic pyroclastics formed by dacite probably associated with a volcanic activity of a caldera. Formed in the middle Miocene (15 Ma).
Chamosite from this location was described in 1916 as chlorite and as Japanese first chamosite in 1941.
Other localities
Arakawa Mine (Hydrothermal, Botryoidal)
Dokura Mine (Hydrothermal, Earthy)
Copyright (c) 2021 NariNari, All Rights Reserved.