Heguri
Heguri-naka, Minami-Boso city, Chiba pref., Japan
Occurrence
Prehnite-Pumpellyite facies metamorphic rocks
Veins in the early Miocene (20 Ma) alkali basalt, hyaloclastite, gabbro, and serpentinite in the early Miocene (20 Ma) Mineoka Group, an accretionary complex corresponding to the Setogawa Group of the Shimanto accretionary complex. Protolith of serpentinite is harzburgite, and considered as refractory peridotite at shallow condition less than 30 km in depth. Subjected to Prehnite-Pumpellyite facies metamorphism. Ages of sediments were determined by radiolarians, alkali basalt by Ar-Ar radiometric dating.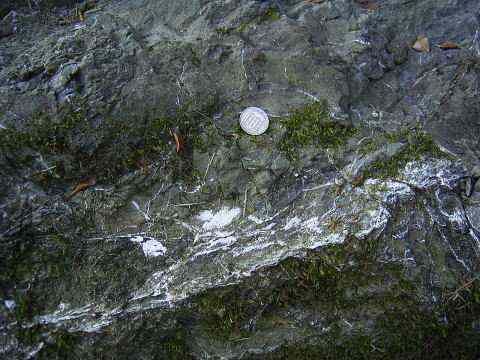 Outcrop of tuff of the Mineoka Group 1 m apart from serpentinite block. The gray host is tuff, and the boundary between tuff and serpentinite is not clear. Most of white veins are pectolite with minor amount of analcime and tobermorite veins.
Reported Minerals
Calcite
Gyrolite
Natrolite
Apophyllite
Magnetite
Ilmenite
Hornblende
Augite
Labradorite
Mineral Assemblages
Hyaloclastite: Pectolite - Apophyllite
Hyaloclastite: Gyrolite - Laumontite - Thomsonite-Ca
Gabbro: Feldspar - Quartz - Augite - Hornblende - Magnetite - Ilmenite
Gabbro: Prehnite
Gabbro: Xonotlite
Localities
Related Occurrences
Copyright (c) 2013 NariNari, All Rights Reserved.