Iwakake
Sugiyama, Minobu city, Minami-Koma county, Yamanashi pref., Japan
Occurrence
Prehnite-Pumpellyite facies metamorphic rocks
Basaltic to andesitic hyaloclastite of the early Miocene (16 Ma) Furusekigawa Formation, the Nishi-Yatsushiro group, subjected to Prehnite-Pumpellyite facies metamorphism by the Ashikawa quartz diorite in the middle Miocene (12 Ma). The Ashikawa quartz diorite is I-type (Magnetite-series). Basalt and andesite are tholeiitic or alkalic. The Nishi-Yatsushiro group can be interpreted as sediments at the back-arc basin of the old Izu-Ogasawara arc. Approximately 12 km apart from the Ashikawa quartz diorite, the heat source. Ages of sedimentary rocks were determined by microfossils, quartz diorite by K-Ar radiometric dating of biotite and hornblende.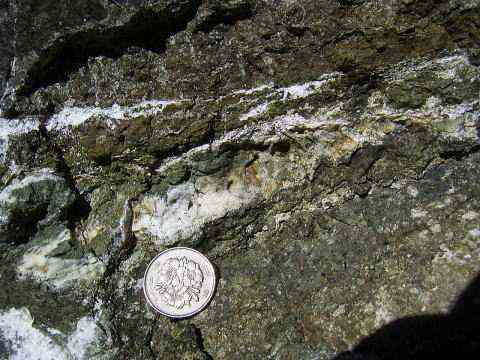 Outcrop of hyaloclastite of the Furusekigawa Formation. The grayish-green host is hyaloclastite subjected to Prehnite-Pumpellyite facies metamorphism. The white veins are prehnite vein up to several cm in width, and amygdalodial aggregates of prehnite crystals were recognized in open spaces. Pyramidal calcite crystals are often on prehnite aggregates. There are two types of calcite: fluorescent calcite by UV excitation and non-fluorescent calcite. It seems that there were two stages of calcite formation. Laumontite veins are also commonly founded.
Reported Minerals
Mineral Assemblages
Prehnite - Calcite
Laumontite
Localities
Related Occurrences
Copyright (c) 2013 NariNari, All Rights Reserved.