Nakayashiki
Nakanokura, Minobu city, Minami-Koma county, Yamanashi pref., Japan
Occurrence
Prehnite-Pumpellyite facies metamorphic rocks
Basaltic to andesitic hyaloclastite of the early Miocene (16 Ma) Furusekigawa Formation, The Nishi-Yatsushiro group, subjected to Prehnite-Pumpellyite facies metamorphism by the Ashikawa quartz diorite in the middle Miocene (12 Ma). The Ashikawa quartz diorite is I-type (Magnetite-series). Basalt and andesite are tholeiitic or alkalic. The Nishi-Yatsushiro group can be interpreted as sediments at the back-arc basin of the old Izu-Ogasawara arc. Approximately 8 km apart from the Ashikawa quartz diorite, the heat source. Ages of sedimentary rocks were determined by microfossils, quartz diorite by K-Ar radiometric dating of biotite and hornblende.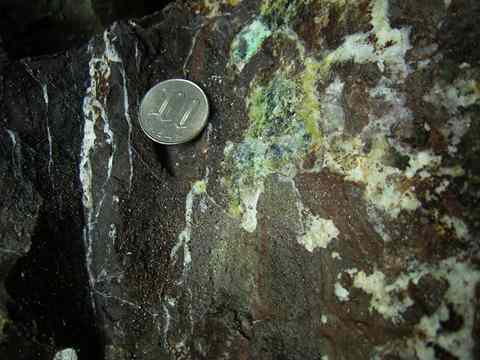 Outcrop of hyaloclastite of the Furusekigawa Formation. The brown host is hyaloclastite subjected to Prehnite-Pumpellyite facies metamorphism, and is associated with calcite, prehnite, datolite, and laumontite. White veins in this photograph are all calcite containing copper. The green part at the right of the coin is malachite formed by oxidation of copper in the vein.
Reported Minerals
Mineral Assemblages
Calcite - Copper
Calcite - Laumontite
Prehnite - Datolite
Localities
Related Occurrences
Copyright (c) 2013 NariNari, All Rights Reserved.