Hirayama
Hirayama, Yamakita city, Ashigara-Kami county, Kanagawa pref., Japan
Occurrence
Prehnite-Pumpellyite facies metamorphic rocks
Basaltic to andesitic lava of the middle Miocene (15 Ma) Oyama Subgroup, the Tanzawa Group, subjected to Prehnite-Pumpellyite facies metamorphism by the Tanzawa tonalite in the late Miocene (7 Ma). The Tanzawa Group is considered as the accreted Izu island arc. The Tanzawa tonalite is I-type (Magnetite-series). Approximately 6 km apart from tonalite, the heat source. Ages of sedimentary rocks were determined by microfossils, tonalite by radiometric dating.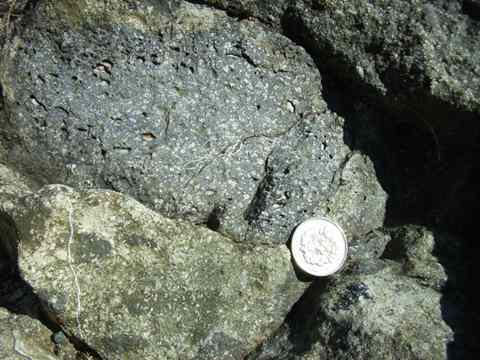 Outcrop of basaltic tuff breccia of the Oyama Subgroup. There is a cobble of dark green basalt with many visicules. The surrounding pale green matrix is tuff. Visicules of the basalt cobble are filled with white zeolite. Grayish-green spherules of pumpellyite with the white prehnite margin are at the center of this photograph. Other white spherules are composed of chabazite with minor amount of stilbite and heulandite. The thin white vein at the left is laumontite.
Reported Minerals
Pumpellyite
Epidote
Prehnite
Chabazite
Stilbite
Heulandite
Wairakite
Scolecite
Laumontite
Ferrohornblende
Magnesiohornblende
Mineral Assemblages
Pumpellyite - Prehnite
Chabazite - Stilbite
Chabazite - Heulandite
Wairakite
Amphibolite(Host) - Magnesiohornblende
Granodiorite(Host) - Ferrohornblende
Localities
Related Occurrences
Copyright (c) 2013 NariNari, All Rights Reserved.