Nakanokura, Minobu city, Minami-Koma county, Yamanashi pref., Japan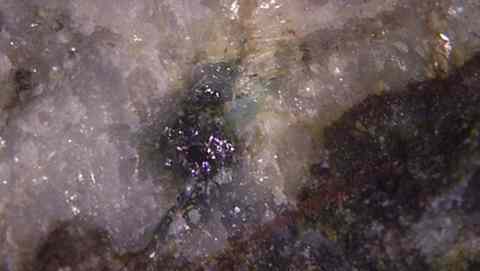 Field of view: 10 mm. Copper associated with calcite. The purple grain with a metallic luster at the center is copper. The purple color is due to surface oxidation of copper. The surrounding white parts are calcite. The green parts at the right of copper is attributed to Cu ion. The black part at the lower right is host hyaloclastite.

Recovered from a calcite vein in basaltic-andesitic hyaloclastite subjected to Prehnite-Pumpellyite facies metamorphism.

Copper from this location was described in 1982.

Copyright (c) 2017 NariNari, All Rights Reserved.