Kyowa-Funaoka, Daisen city, Akita pref., Japan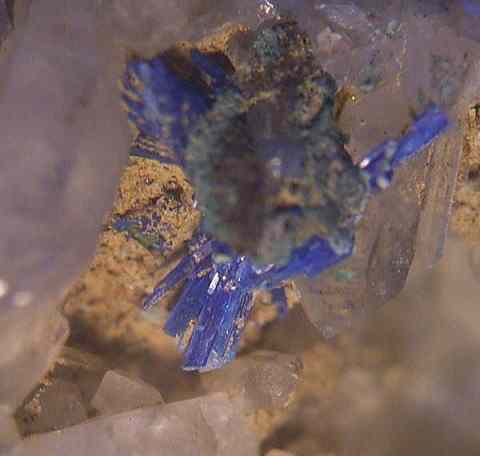 Field of view: 5 mm. Linarite perched on quartz. The radial group of truncated long blue prisms are linarite. The massive dark green part at the center of linarite is brochantite. The transparent prisms at the basement are crystals of gangue quartz, and earthy brown parts are dirt.

Recovered from an open space of a quartz in a meteoric oxidation zone of a moderate-temperature hydrothermal deposit in andesitic pyroclastics formed by dacite probably associated with volcanic activity of a caldera. Formed in less than 50 years after the mine was closed,

Linarite from this location was described in 1901.

Copyright (c) 2017 NariNari, All Rights Reserved.