Mount Myoken
Kozuma village, Hitachi-Ota city, Ibaraki pref., Japan
This locality is a natural monument of Satomi village, and closed to collecting.
Occurrence
Spodumene subtype rare-element pegmatite
Rare-element class pegmatite in the Late Cretaceous (100 Ma) Tabito pluton, a member of the S-type (Ilmenite-series) Abukuma granitic rocks. The age of the Tabito pluton by K-Ar radiometric dating of hornblende and biotite.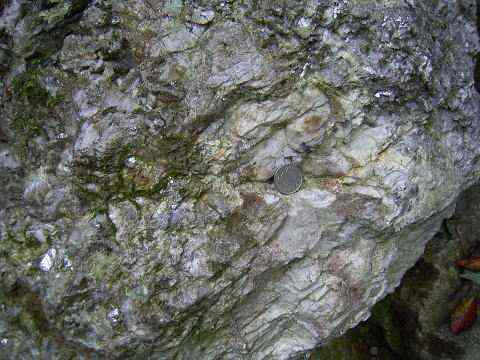 Outcrop of spodumene subtype rare-element pegmatite in the Tabito Pluton. The translucent white parts are quartz. The opaque white parts with perfect cleavage, at the bottom of this photograph for example, are albite. The pale pink flakes with perfect cleavage are trilithionite.
Reported Minerals
Pollucite
Microlite
Albite
Quartz
Mineral Assemblages
Quartz - Feldspar - Lepidolite - Elbaite
Quartz - Feldspar - Spodumene - Montebrasite
Localities
Related Occurrences
Copyright (c) 2014 NariNari, All Rights Reserved.