Kozuma village, Hitachi-Ota city, Ibaraki pref., Japan
This locality is closed to collecting.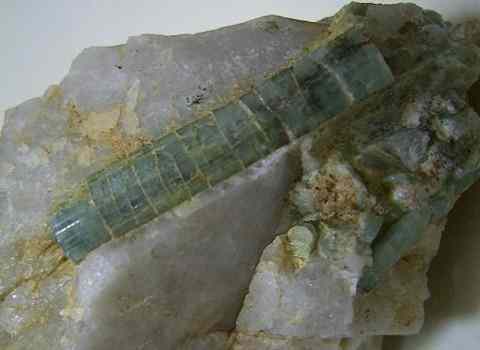 Width of the crystal: 3 mm. Elbaite in pegmatite. The triangular green prisms are elbaite. There are triangle cross sections at the right, and its margin is green whereas the center is pink. This color combination is called watermelon. The surrounding translucent white host are quartz.
Recovered from a spodumene subtype rare-element pegmatite in S-type (Ilmenite-series) granite. Formed in the Late Cretaceous (100 Ma).
Elbaite from this location was described in 1977, and was designated the prefectural mineral of Ibaraki in 2016 by the Geological Society of Japan.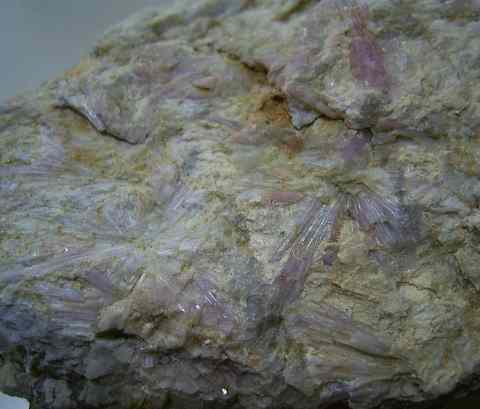 Field of view: 50 mm. Pink elbaite. The radial groups of pink prisms are elbaite. The opaque white host is albite.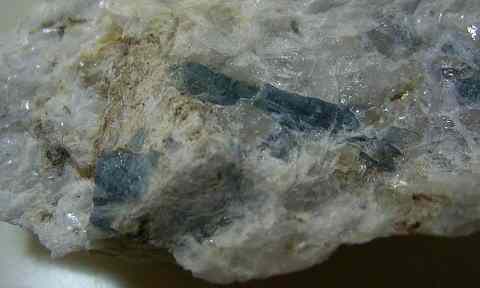 Field of view: 30 mm. Blue elbaite. The blue prisms are elbaite. The translucent gray parts are quartz, and the opaque white parts are albite.
Other localities
Mount Myoken (Pegmatite, Prismatic)
Sakihama (Pegmatite, Prismatic)
Nagatare (Pegmatite, Prismatic)
Copyright (c) 2017 NariNari, All Rights Reserved.