Nagatani
Nagatani, Nose city, Toyono county, Osaka pref., Japan
Occurrence
Phenocryst in the Late Cretaceous (70 Ma) quartz porphyry dike intruded in the Late Cretaceous (70 Ma) Sasori tuff breccia, the top member of the Arima Group. The Arima Group is considered as the pyroclastic flow from the Cretaceous Sasori Caldera. This locality had been considered as crystal lapilli in the Sasori tuff breccia. Ages of igneous rocks were determined by K-Ar radiometric dating.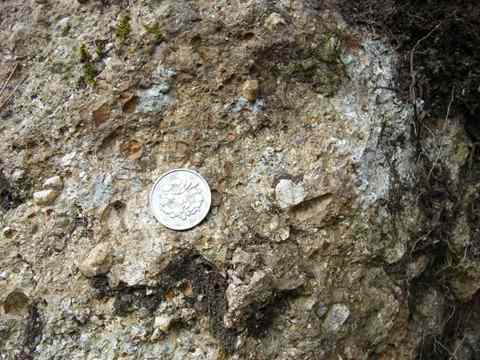 Outcrop of weathered quartz porphyry in the Sasori tuff breccia. Prismatic white grains are orthoclase. Orthoclase was replaced by clay minerals by weathering. The massive pale brown basement is a matrix of quartz porphyry.
Reported Minerals
Mineral Assemblages
Quartz porphyry(Host) - Orthoclase - Beta-Quartz
Localities
Related Occurrences
Copyright (c) 2015 NariNari, All Rights Reserved.