Kaneyama
Akiyama, Uenohara city, Yamanashi pref., Japan
Occurrence
High-temperature zeolite facies metamorphic rocks
Zeolite in andesitic tuff breccia in the early Miocene (16 Ma) Akiyama Formation of the Tsuru Group. The andesitic tuff breccia has been subjected to Zeolite facies metamorphism by the late Miocene (7 Ma) Tanzawa tonalite. The Tanzawa tonalite is I-type (Magnetite-series). Approximately 10 km apart from tonalite, the heat source. Age of tonalite was determined by radiometric dating.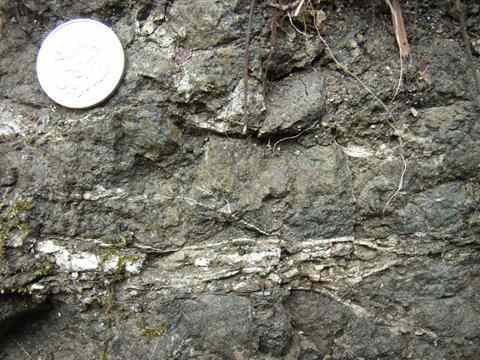 Outcrop of andesitic tuff of the Akiyama Formation. Zeolite veins are in andesitic tuff sujected to Zeolite facies metamorphism. The grayish-green host is metamorphosed andesitic tuff. White veins are composed of laumontite and stilbite. White protruded beds are stilbite, and notched beds are laumontite. It seems that laumontite and stilbite were deposited repeatedly.
Reported Minerals
Laumontite
Chabazite
Analcime
Mineral Assemblages
Laumontite - Stilbite
Chabazite
Analcime
Localities
Related Occurrences
Copyright (c) 2020 NariNari, All Rights Reserved.