Nomaki
Nomaki, Minano city, Chichibu county, Saitama pref., Japan
Occurrence
High-temperature zeolite facies metamorphic rocks
Zeolite in mudstone formed by zeolite facies diagenesis in Tomita Mudstone Member of early Miocene (16 Ma) Oganomachi Formation.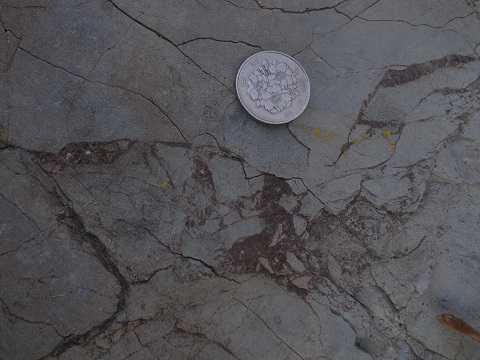 Outcrop of mudstone of Oganomachi Formation. Fissures of mudstone is filled with calcite and analcime. The dark gray host is mudstone. The dark brown veins are composed of calcite and analcime. Euhedral crystals of analcime are observed in the open spaces where calcite is dissolved by weathering.
Reported Minerals
Mineral Assemblages
Localities
Related Occurrences
Copyright (c) 2020 NariNari, All Rights Reserved.