Gunma Mine
Iriyama, Nakanojo city, Agatsuma county, Gunma pref., Japan
Permission is required for observation.
Synonym
Kusatsu Mine
Occurrence
Goethite-Jarosite deposit, Bog iron deposit, formed from the Fe- and SO4-rich hot spring on Yokoteyama Lava, Oshi Pyroclastic Flow Deposit and Aoba Lava. Goethite is still depositing in the stream flowing from the spring, Ana-Jigoku Pond. The spring is a Fe,Al-Sulfate spring with a pH of 2.5-3.0. The Hebei-Ike Lava is composed of dacite, and it erupted from the Kusatsu-Shirane volcano associated with the Shirane pyroclastic cone. Jarosite deposits from acidic water near the spring, and limonite deposits from less acid water. It is considered that goethite was deposited by bacterial iron biomineralization of Fe ion in the hot spring water.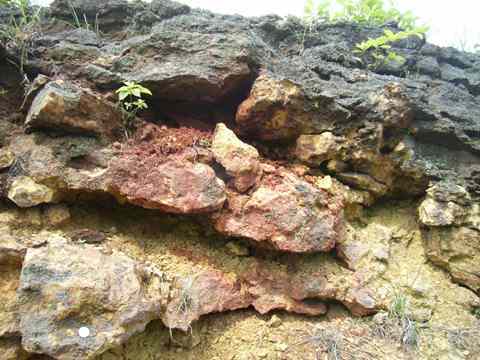 Outcrop of hematite associated with goethite-jarosite deposit. The reddish-brown parts at the center are hematite. The massive yellow parts at the upper right and the yellow talus cone are jarosite. Jarrosite is associated with goethite with plant impression fossils. The black crust at the top of the outcrop is dirt by weathering. This is a rare locality to observe the formation process of a typical bog iron deposit: acid hot spring, bacterial iron mineralization, and resulting deposit.
Reported Minerals
Jarosite
Hematite
Schwertmannite
Mineral Assemblages
Goethite - Jarosite
Hematite
Details of the mine
The Gunma mine was the second biggest iron mine during World War II. The largest iron mine was Kamaishi Mine.
History
1940-1945: Fe was mined during World War II.
Localities
Related Occurrences
Copyright (c) 2015 NariNari, All Rights Reserved.