Sennin, Waga village, Kitakami city, Iwate pref., Japan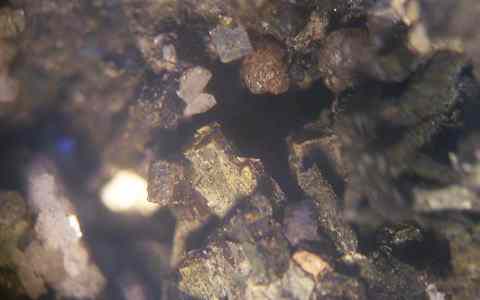 Field of view: 20 mm. Hedenbergite associated with andradite. The quadrangular grayish-green prisms are hedenbergite, partly replaced by actinolite by metasomatism. The two dark brown cubes at the top are pyrite. The rounded brown crystals at the upper right are andradite perched on hedenbergite. The white grains are calcite.

Recovered from an oxidative metazomatic zone combined with skarn formed by contact metamorphism of S-type (Ilmenite-series) granodiorite. Formed in the middle Miocene (15 Ma).

Hedenbergite from this location was described in 1917.

Copyright (c) 2017 NariNari, All Rights Reserved.