Sennin, Waga village, Kitakami city, Iwate pref., Japan
Source for Quick lime and Sodium cyanide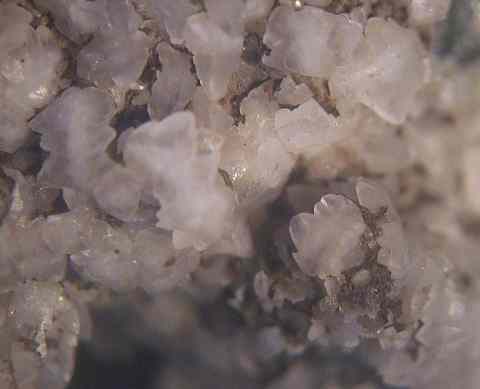 Field of view: 20 mm. Calcite in an open space of the hedenbergite skarn. The granular white to transparent crystals are calcite. The opaque white parts at the center of each crystal are cores, and transparent scalenohedral crystals grow to the both sides. The light gray host is hedenbergite altered to actinolite.

Recovered from an open space of an oxidative metazomatic zone combined with skarn formed by contact metamorphism of S-type (Ilmenite-series) granodiorite. Formed in the middle Miocene (15 Ma).

Calcite from this location was described in 1900.

Copyright (c) 2017 NariNari, All Rights Reserved.