Higashi-Mozumi, Kamioka village, Hida city, Gifu pref., Japan
This locality is closed to collecting.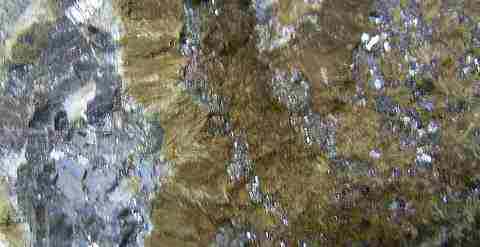 Field of view: 50 mm. Hedenbergite associated with galena. The brownish-green bands are hedenbergite, and hedenbergite fibers are vertical to bands. The coarse dark gray parts exhibiting perfect cleavage are galena. This hedenbergite-dominant ore is called Moku-ji by miners.

Recovered from a pneumatolytic deposit combined with skarn formed by contact metamorphism of I-type (magnetite-series) granite. Formed in the early Paleocene (65 Ma).

Hedenbergite from this location was described in 1916, and was designated the prefectural mineral of Gifu in 2016 by the Geological Society of Japan.

Copyright (c) 2017 NariNari, All Rights Reserved.