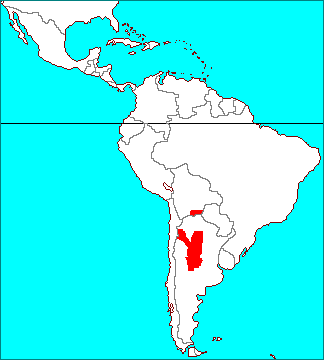 Distributed from central Bolivia to San Luis, Argentina at altitudes from 700 to 2,500 m.
Epiphytic.
Tillandsia rectangula
Tillandsia (Diaphoranthema) rectangula Baker (1878)
[ Etymology ] rectus + angularis in Latin (linear + angular)
[ Classification ] genus Tillandsia - subgenus Diaphoranthema
[ Synonyms ]
Tillandsia propingqua var. rectangula Grisebach
Photographs
Features
[ Blooming ] ?
[ Flower ] ?
[ Fregrance ] ?
[ Blooming size ] 2 - 3 cm (W) x 2 - 4 cm (H)
Needs good ventilation.
It looks like Tillandsia funebris. Leaves of Tillandsia rectangla is shorter up to 2 cm. The leaves are shorter than the stem. Its floral bracts are shorter and as half as sepals.
Cultivaton tips
Informations summarized here are based on our experiences, and TrekGEO does not guarantee the results by cultivating in the same or similar conditions described here. Even a species of Tillandsia differs substantially between individuals, and is very sensitive in changes of environments. Applicatons of any idea inspired by this site should be at your own risks.
Managed to keep the foliage. Better ventilation is necessary.
Cultivation Log (2nd foliage, HR5239)
Cultivation Log (1st foliage)
Mar. 2009 It keeps growing.

---

July 2007 The growing point does not die in this cultivation circumstance.

---

Oct. 2006 Moved to another site. Cultivation condition is almost same as the previous site.

---

Oct. 2005 The growing point died and 2 offsets began to grow.

---

Aug. 2004 The temperature rises above 30 °C for 40 days, and the highest temperature was over 39 °C.

---

The growing point dies occasionally and offsets grow repeatedly.
Copyright (c) 2022 NariNari, All Rights Reserved.