Kinjo Mine
Kakino, Yamagata city, Gifu pref., Japan
Occurrence
Moderately high-T hydrothermal skarn deposit
Skarn formed by the early Paleocene (65 Ma) Koka Granite intruded in the Middle Jurassic (170 Ma) Nabi unit, a member of the Tamba-Mino-Ashio accretionary complex. The moderate temperature hydrothermal deposit associated with skarn was formed by the quartz porphyry and granodiorite porphyry arc-shaped dikes of the Okumino Rhyolites. Various arsenate minerals were reported from the oxidation zone. The Koka Granite is I-type (Magnetite-series), and approximately 1 km apart from this locality. The sulfide deposits are in contact with the quartz porphyry and the granodiorite porphyry dikes. The age of limestone is probably Permian (270 Ma). The Arc-shaped dikes and the Koka Granite are considered as members of the Cretaceous Horado Caldera Complex. Ages of sedimentary rocks were determined by radiolarians, and granite by K-Ar radiometric dating.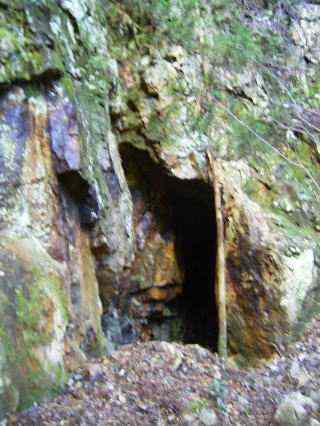 Adit on the skarn outcrop in the Nabi Unit. There are outcrops of fresh Permian limestones around this adit. Various arsenate secondary minerals were recovered from the dump. There are a lot of leeches in this locality.
Reported Minerals
Galena
Sphalerite
Pyrite
Chalcopyrite
Arsenopyrite
Greenockite
Cerussite
Linarite
Hemimorphite
Scorodite
Mimetite
Pharmacosiderite
Hedenbergite
Grossular
Epidote
Tremolite
Axinite
Quartz
Mineral Assemblages
Chalcopyrite - Tyrolite
Chalcopyrite - Adamite - Olivenite
History
The deposit was found during Edo period (1600-1850).
Around 1850: Mr. Ishigami mined the deposit.
Around 1910: Mr. Kanno mined the deposit.
1914: Ceased to mine.
Localities
Related Occurrences
Copyright (c) 2016 NariNari, All Rights Reserved.