Iwadono Kannon
Iwadono, Higashi-matsuyama city, Saitama pref., Japan
Synonym
Iwadono-san Shobo-ji Temple
Occurrence
Sulfate minerals growing on the surface of tuff beds in middle Miocene Shogunzawa Formation in the dry winter climate. Shogunzawa Formation produces a lot of fossils. Lower Negishi Formation and Godo Formation are oberved at Kuzubukuro, a famous locality for various fossils such as shark's teeth. Ages of sedimentary rocks were determined by fossil diatoms, tuff by Fission track dating of zircon and K-Ar radiometric dating of biotite and hornblende.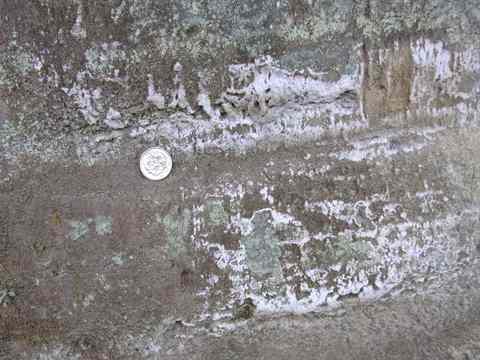 Outcrop of diatomaceous siltstone of Shogunzawa Formation associated with tuff beds. The gray parts are diatomaceous siltstone and tuff beds are covered with white crusts. There are two thick tuff beds nearly parallel to the ground surface in diatomaceous siltstone. The white crusts on the tuff beds are epsomite. As epsomite is soluble in water, it can not be observe in a humid climate.
Reported Minerals
Mineral Assemblages
Localities
Related Occurrences
Copyright (c) 2017 NariNari, All Rights Reserved.