Onigasaki
Hama, Kawazu city, Kamo county, Shizuoka pref., Japan
Occurrence
Phenocryst of rhyolite in the lower part of the late Miocene (7.0 Ma) Shirahama Group. The Shirahama Group unconformably overlies the Miocene Yugashima Group. Ages of sediments were determined by microfossils and K-Ar radiometric dating.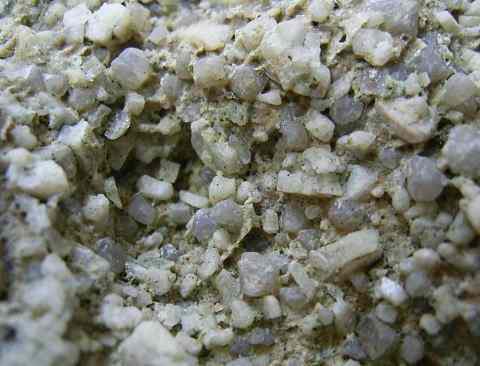 Width: 30 mm. Outcrop of weathered rhyolite o fthe Shirahama Group. Phenocrysts were etched out on the surface. Rounded gray grains are beta-quartz, and platy opaque white crystals are orthoclase.
Reported Minerals
Mineral Assemblages
Rhyolite(Host) - Orthoclase - Beta-Quartz
Localities
Related Occurrences
Copyright (c) 2013 NariNari, All Rights Reserved.