Mugikusa Pass
Kami, Sakuho city, Minami-Saku county, Nagano pref., Japan
Occurrence
Minerals associated with rhyolite of the Middle Pleistocene (0.3 Ma) Inagodake Lavas. The Inagodake Lavas is composed of andesite and rhyolite, and is a member of the Yatsugatake Volcanoes of Mount Yatsugatake. The Yatsugatake Volcanoes have been active since the Middle Pleistocene (0.5 Ma). The Inagodake Lavas overlies the Shirakoma-rindo lava, and underlies the Shirakomaike-toho lavas. The ages of volcanic rocks were determined by K-Ar radiometric dating.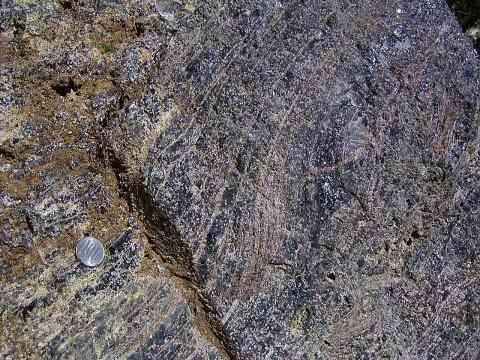 Outcrop of obsidian, a part of rhyolite of the Inagodake Lavas. The flow structure is clear. Massive dark gray to black parts are obsidian. Pink to white striations are mainly composed of cristobalite. The brown parts are soil.
Reported Minerals
Mineral Assemblages
Obsidian(Host) - Cristobalite
Localities
Related Occurrences
Copyright (c) 2013 NariNari, All Rights Reserved.