Hayama Mine
Kawamata city, Date county, Fukushima pref., Japan
Occurrence
Hornblende-hornfels facies peridotite
Peridotite block associated with a block of sedimentary rocks in granodiorite of the Late Cretaceous (100 Ma) Abukuma Granites. The sedimentary rocks and peridotite distribute as a roof pendant in granodiorite and have been subjected to contact metamorphism. The sedimentary rocks are composed of hornfels with minor amount of amphibolite and diopside skarn. The peridotite block is composed of dunite and herzbergite. The Abukuma Granites are S-type (Ilmenite-series), and peridotite block contacts with granodiorite. Ages of granitoids were determined by K-Ar radiometric dating of hornblende and biotite. This mine was developed for Ni.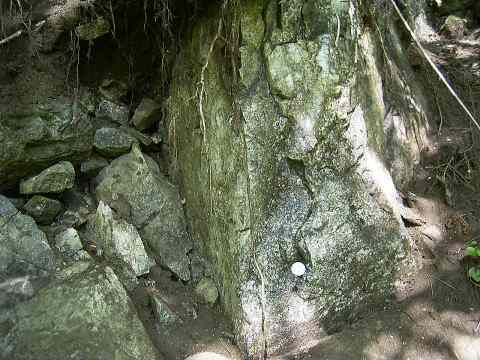 Outcrop of contact metamorphosed peridotite. The grayish-green outcrop is composed of slightly serpentinized dunite. The rounded boulders are the typical weathered structure of peridotite.
Reported Minerals
Mineral Assemblages
Forsterite - Ludwigite - Hörnesite
Serpentine - Magnetite - Tremolite - Aragonite
History
1951: Began to mine Ni ore. This mine had been operated for a few years.
Localities
Related Occurrences
Copyright (c) 2013 NariNari, All Rights Reserved.