Kosaka Mine
Kosaka-Kozan, Kosaka city, Kazuno county, Akita pref., Japan
Synonym
Uchinotai Mine, Toki Mine
Occurrence
Kuroko massive sulfide deposit
Kuroko Massive Sulfide deposit in dacite and dacitic pyroclastics in the early Miocene (17 Ma) Nabekozawa Formation. The Nabekozawa Formation corresponds to the Hotakizawa Formation in Odate region. This deposit was formed in the early Miocene (16 Ma) Uchinotai Caldera, a part of the Hokuroku Caldera Complex. The Hokuroku Caldera is 20 km in diameter, and is a caldera complex composed of Miocene submarine volcanos and Miocene-Pliocene terrestrial volcanos. There are at least 13 small calderas and craters in the Hokuroku Caldera. Ages of volcanic rocks were determined by K-Ar radiometric dating.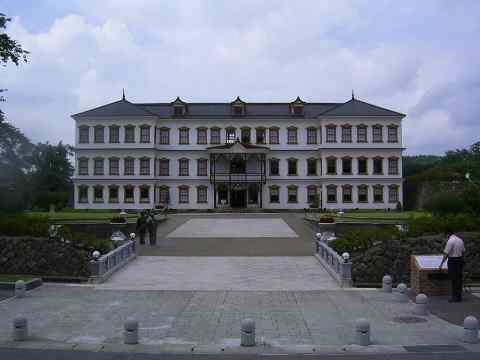 The mine office moved from the original location near the smeltor. This building was built in 1880's. This building is used as a sightseeing facility. This mine had many welfare facilities such as a Kabuki theater for mine workers.
Reported Minerals
Copper
Pyrite
Chalcopyrite
Sphalerite
Galena
Chalcocite
Bornite
Covellite
Azurite
Tetrahedrite
Gypsum
Calcite
Mineral Assemblages
Sphalerite - Galena - Pyrite - Chalcopyrite
Baryte - Amethyst - Sphalerite
Details of the mine
Mainly silver and copper were mined. This mine became one of the biggest mines in Japan by the development of a new smelting method for Kuroko ore which had been impossible to use as a resource of copper. This mine hired 4,500 workers at the best days.
Produced metal
Copper: 3,700 tons per year
History
1683: The deposit was found. Mined for copper.
1861: A farmer, Yosaku Kobayashi, mined silver.
1866: Nambu local government aquired this mine.
1870: Nambu local government began to run the mine.
1881: Western style smelter and Ag separator were built, and became the best Ag mine in Japan.
1884: Fujita group bought the mine.
1898: Engineers invented pyritic smelting method, and began to mine Kuroko ore as Cu resource.
Present: Quit mining and dedicated to smelting of imported Cu ore.
Localities
Kosaka Mine (Tertiary,Sulfide)
Hanawa Mine (Tertiary,Sulfide)
Hanaoka Mine (Tertiary,Sulfide)
Toya Mine (Tertiary,Sulfide)
Takara Mine (Funnel structure,Sulfide)
Asahi Mine (Tertiary,Gypsum)
Related Occurrences
Copyright (c) 2014 NariNari, All Rights Reserved.