Asahi Mine
Oto village, Aizu-Wakamatsu city, Fukushima pref., Japan
Synonym
Amaya Mine
Occurrence
Kuroko massive sulfide deposit
Kuroko Massive Sulfide deposit in dacitic tuff breccia of the middle Miocene (15 Ma) Ogino Formation. The sedimentary circumstance of the Ogino Formation is marine. The Ogino Formation conformably overlies the Tanaka Formation, and conformably underlies the Hongo Formation. The deposit is mainly composed of gypsum parallel to the bedding plane. The host of the deposit has been subjected to silicification and sericitization alteration.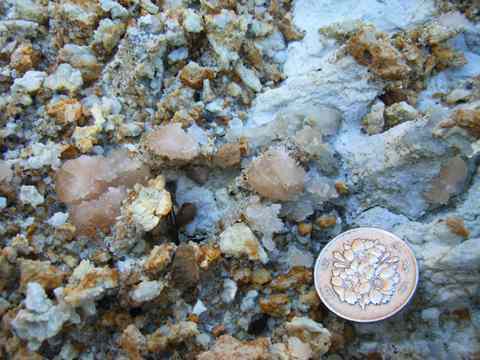 Occurrence of gypsum associated with sericite. The bluish-white clay near the coin is sericite. The translucent cololess to orange grains are gypsum partly exhibiting fibrous habit. Other opaque grains are fragments of the host dacitic tuff breccia of the Ogino Formation, and the opaque white grains are quartz.
Reported Minerals
Gypsum
Celestite
Pyrite
Sericite
Mineral Assemblages
Gypsum - Celestite
Rhyolite(Host) - Pyrite
History
1590: The deposit was mined for gold by Ujisato Gamo, who ruled the Aizu feudal domain.
1600: The mine developed to one of the three biggest mine in Aizu region by Hideyuki Gamo, the son of Ujisato Gamo.
1635: The mine began to decline.
1932: The gypsum deposit was mined.
1935: Au, Ag, and Cu were began to mined.
1935: A new gypsum deposit was discovered and began to mined.
Localities
Kosaka Mine (Tertiary,Sulfide)
Hanawa Mine (Tertiary,Sulfide)
Hanaoka Mine (Tertiary,Sulfide)
Toya Mine (Tertiary,Sulfide)
Takara Mine (Funnel structure,Sulfide)
Asahi Mine (Tertiary,Gypsum)
Related Occurrences
Copyright (c) 2015 NariNari, All Rights Reserved.