Okorogawa Mine
Naka-Okorogara, Nikko city, Tochigi pref., Japan
Occurrence
Moderately high-T hydrothermal deposit
Oxidation zone of the moderate temperature hydrothermal deposit associated with the early Paleocene (65 Ma) welded tuff of the Okunikko Rhyolites. The Okunikko Rhyolites unconformably overlies the Late Jurassic (145 Ma) Kurohone-Kiryu Unit. Veins of the hydrothermal deposit are in the sediments of the Kurohone-Kiryu Unit. The Kurohone-Kiryu Unit corresponds to the Kanayama Unit of the Tamba-Mino-Ashio accretionary complex. Ages of sedimentary rocks were determined by radiolarians, and welded tuff by K-Ar radiometric dating.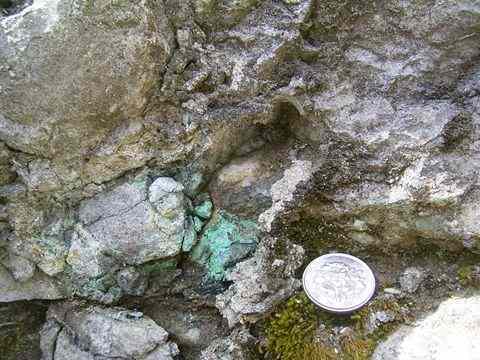 Outcrop of the oxidation zone of the Cu-dominant moderately high-temperature hydrothermal deposit. The green part is thin crust of chrysocolla. The white host is sandstone of the Kurohone-Kiryu Unit. Various secondary minerals were formed by oxidation of Cu-bearing minerals in the deposit.
Reported Minerals
Chalcopyrite
Pyrite
Arsenopyrite
Pyrrhotite
Langite
Philipsbornite("Hidalgoite")
Cuprite
Copper
Aurichalcite
Chrysocolla
Mineral Assemblages
Localities
Related Occurrences
Copyright (c) 2015 NariNari, All Rights Reserved.