Kanasaki
Kanasaki, Minano city, Chichibu county, Saitama pref., Japan
Occurrence
Besshi massive sulfide deposit
Besshi Massive Sulfide Deposit associated with tuff in the Late Jurassic (150 Ma) to Early Cretaceous (130 Ma) accretionary complex subjected to Greenschist facies metamorphism as a part of the high-P Sambagawa metamorphic belt in the Late Cretaceous (70 Ma). The Sambagawa metamorphic rocks is considered that it has been near the ground surface since early Paleoccene (65 Ma). Metamorphic age was determined by K-Ar radiometric dating of muscovite.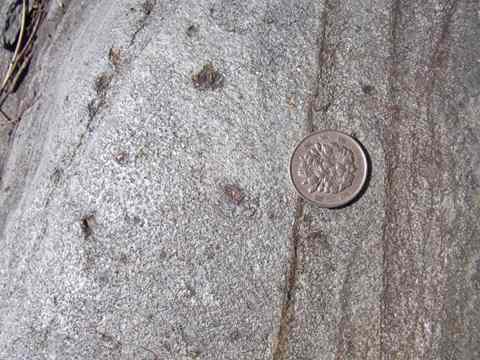 Outcrop of greenschist paralle to its schistosity in Sambagawa metamorphic belt. Rectangular crystals of euhedral yellow pyrites are scattered on the surface of greenschist. Brown dirt around pyrite crystals are limonite formed by weathering of pyrite. Dark green parts around pyrite crystals are fibrous chlorite. This fibrous chlorite shows distribution of pressure shadow around rigid pyrite crystals when it was in high pressure. By studying detailed direction of pressure shadow, high pressure direction during metamorphism is revealed. Very fine white crystals all over the surface of greenschist are albite spots which are good index of higher metamorphic condition.
Reported Minerals
Mineral Assemblages
Greenschist - Pyrite - Albite
Greenschist - Magnetite - Albite
Stilpnomelane schist
Localities
Related Occurrences
Copyright (c) 2015 NariNari, All Rights Reserved.