Hitachi Mine
Miyata village, Hitachi city, Ibaraki pref., Japan
Synonym
Akazawa Mine
Occurrence
Besshi massive sulfide deposit
Besshi Massive Sulfide Deposit of the upper Akazawa Formation subjected to Epidote-Amphibolite facies metamorphism in the Late Cretaceous (100 Ma) Abukuma metamorphic belt. This deposit produces pyrrhotite, which suggests that metamorphic grade is higher than other Japanese Besshi Massive Sulfide Deposits. Metamorphic age by K-Ar radiometric dating of muscovite.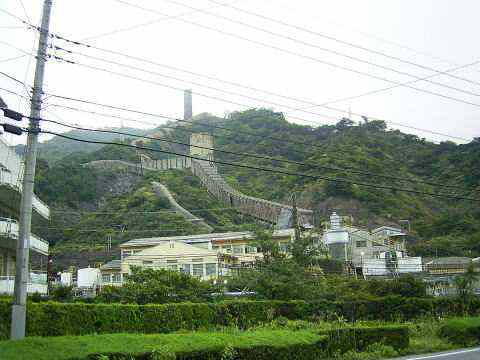 Daiyuin smelter. The chimney at the center of this photograph was built to lower smog problem, but it was broken at the base of it.
Reported Minerals
Pyrite
Chalcopyrite
Pyrrhotite
Magnetite
Anhydrite
Chlorite
Epidote
andalusite
Cordierite
Mineral Assemblages
Pyrite - Chalcopyrite - Quartz
Chalcopyrite - Quartz - Chlorite - Cordierite
Details of the mine
Cu was mined mainly. Hitachi group was originated from this mine.
Produced metal
Copper Ore: 30,000 tons/month (1958)
Total Cu produced: approximately 440,000 tons
History
1591: Receiving permission from Hideyoshi Toyotomi, Yoshishige Satake, the feudal lord of Satake feudal domain, mined Au.
1640: Mouemon Nagata started to mine Cu as Akazawa mine.
1660: The mine was closed by water flow.
1861: Gengouemon Otsuka started to mine Cu.
1864: Mining equipments were broken by revolutional activities by Mito-Tengu group.
1894: Motonaga Takahashi and Takuma Jyono started to mine Cu.
1905: Hisahara mining corporation (Fusanosuke Hisahara) bought the mine and renamed to Hitach mine.
1905: the 150 m chimney was built.
1907: Smelter was built.
1925: Nihon-kogyo aquired the mine.
Localities
Related Occurrences
Copyright (c) 2015 NariNari, All Rights Reserved.