Hidaka Mine
Iwamoto, Ogitsu village, Hitachi city, Ibaraki pref., Japan
This mine is seemed to be under the dam lake.
Occurrence
Besshi massive sulfide deposit
Besshi Massive Sulfide Deposit in Greenschist of the Cambrian Series 3 (500 Ma) Daioin Formation subjected to Greenschist facies metamorphism in the Late Cretaceous (100 Ma) Abukuma metamorphic belt. Metamorphic grade is near the boundary between Greenschist facies and Epidote-Amphibolite facies. Age of sedimentary rock was determined by coral fossil, and metamorphic age by K-Ar radiometric dating of muscovite.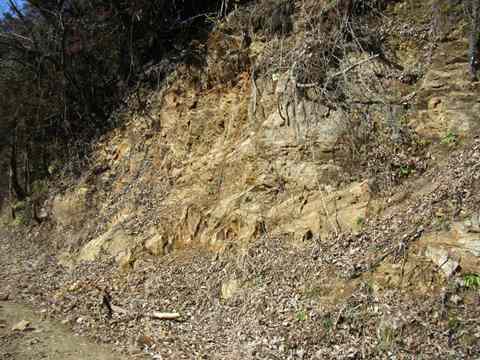 Outcrop of oxidation zone near a bedded Cu-Fe deposit in the Daioin Formation. The origin of brown color of the outcrop is limonite which was formed by oxidation of iron sulfide minerals in the deposit. Oxidation zones are sign for searching deposits near by. This outcrop is composed of greenschist, and its original fresh color is observed as grayish green at approximately 30 meter apart from this outcrop.
Reported Minerals
Chalcopyrite
Pyrite
Malachite
Chrysocolla
Mineral Assemblages
Pyrite - Chalcopyrite - Quartz
History
around 1600: Satake feudal domain found the deposit.
1904: Began to mine copper.
Localities
Related Occurrences
Copyright (c) 2015 NariNari, All Rights Reserved.