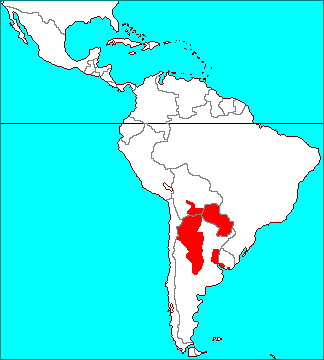 Bolivia, Paraguay, Uruguay, Argentina
Bolivia (Tarija, Chuquisaca),
Paraguay,
Uruguay (Colonia, Montevideo),
Argentina (Jujuy, Salta, Catamarca, Tucumán, Santiago del Estero, Córdoba, Entre Ríos)
---
0 - 2,200 m elevation
---
Epiphytic
Tillandsia ixioides
Tillandsia (Anoplophytum) ixioides Grisebach (1879)
---

[ Etymology ] Ixia (genus Ixia, family Iridaceae) + oides in Latin (similar to)

---

Leaves are very rigid and brittle. There are no fregrant type and fregrant type. The fregrant type gives off all days.

---

[ Small size ] W 30 x H 30 mm
[ Petal ] Yellow
[ Bract ] Pale brown
[ Winter bloomer ] February - March
[ Flowering ] for 18 days (max.)
---
Classification
Cultivation
Informations summarized here are based on our experiences, and TrekGEO does not guarantee the results by cultivating in the same or similar conditions described here. Even a species of Tillandsia differs substantially between individuals, and is very sensitive in changes of environments. Applicatons of any idea inspired by this site should be at your own risks.
---
2nd Plant
Cultivation condition

---

Nov. 2023 An inflorescence began to grow from a foliage of the clump.

---

Feb. 2022 The foliage flowered in 2019 died and was removed.

---

Cultivation condition up to this point

---

Nov. 2021 It keeps growing.

---

Cultivation condition up to this point

---

Apr. 2020 It keeps growing.

---

Mar. 2019 An offset began to grow at the base of the inflorescence.
Feb. 2019 It bloomed.

---

Nov. 2018 An inflorescence began to grow.
July 2018 Good condition.
1st Plant
Cultivation condition

---

Mar. 2009 It became much smaller.

---

Oct. 2006 Moved to another site. Cultivation condition is almost same as the previous site.

---

Oct. 2005 Leaves are falling off one by one.
Aug. 2004 The temperature rises above 30 °C for 40 days, and the highest temperature was over 39 °C.

---

Oct. 2003 3 offsets began to grow after it bloomed.
Copyright (c) 2023 NariNari, All Rights Reserved.