Taira-machi
Taira village, Kasama city, Ibaraki pref., Japan
Occurrence
Phenocrysts in lamprophyre intruded in the Late Jurassic (150 Ma) Kasama Unit of an accretionary complex, the Yamizo Group. This lamprophyre, classified to spessartite, has been subjected to contact metamorphism by the early Paleocene (65 Ma) Inada Granite intruded dozens of meters apart from this locality. The age of this lamprophyre is considered as Cretaceous from the relation to the Paleocene Inada Granite and the Late Jurassic Kasama Unit. The Inada Granite is S-type (Ilmenite-series). The Kasama Unit corresponds to the Yabuhara Unit of the Mino-Tamba-Ashio accretionary complex. Ages of sedimentary rocks were determined by radiolarians, and granite by K-Ar radiometric dating.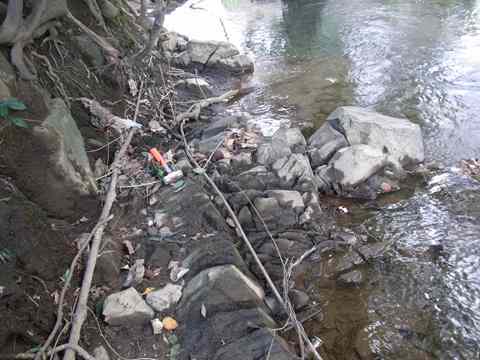 Outcrop of lamprophyre in the Kasama Unit. The bedded part under the scale hammer is a dike of lamprophyre intruded in sedimental rocks. This lamprophyre is composed of hornblende and plagioclase, and classifed to spessartite. This lamprophyre and sedimental rock has been subjected to contact metamorphism by intrusion of granite dozes of meters away from here.
Reported Minerals
Mineral Assemblages
Ferrohornblende - Plagioclase
Localities
Related Occurrences
Copyright (c) 2015 NariNari, All Rights Reserved.