Daibosatsu Pass
Enzan, Koshu city, Yamanashi pref., Japan
Occurrence
Allanite-Monazite type rare-element pegmatite
Pegmatite deposit at the boundary between the late Miocene (10 Ma) Tokuwa Granite and the early Paleocene (65 Ma) Kosuge Unit of the Kobotoke Group, a member of the Shimanto accretionary complex. Pegmatite veins are in the granite body and hornfels formed by contact metamophism of sediments of the Kosuge Unit. Granite at this locality is the ilmenite-series margin of the I-type and magnetites-series Tokuwa Granite. The ilmenite-series margin was formed by reduction reation of granite magma with surrounding pelitic rocks. The Kosuge Unit at this locality has been subjected to Albite-Epidote-hornfels contact metamorphism. Ages of sedimentary rocks were determined by radiolarians and Inoceramus fossil, and granite age by K-Ar radiometric dating of biotite and whole rock.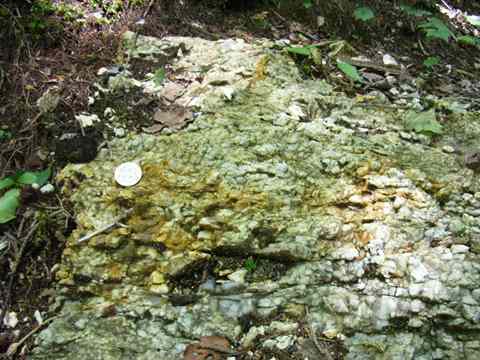 Outcrop of pegmatite in the Tokuwa Granite. The white part of the outcrop is composed of feldspar and quartz. Mafic minerals included in this pegmatite are biotite and allanite-(Ce) but they never co-exist.
Reported Minerals
Mineral Assemblages
Quartz - Feldspar - Biotite
Quartz - Feldspar - Allanite-(Ce)
Localities
Related Occurrences
Copyright (c) 2014 NariNari, All Rights Reserved.