Nagusa
Nagusa-Kamicho, Ashikaga city, Tochigi pref., Japan
Occurrence
Hornblende-hornfels facies contact metamorphic rocks
Early Jurassic (200 Ma) shale has been subjected to hornblende-hornfels facies contact metamorphism by the Late Cretaceous (85 Ma) Ashikaga granodiorite, and andalusite was formed in it. This shale is the matrix of the Middle Jurassic (170 Ma) Kurohone-Kiryu Unit. The Kurohone-Kiryu Unit corresponds to the Kanayama Unit of the Tamba-Mino-Ashio accretionary complex. The Ashikaga granodiorite is S-type (Ilmenite-series). Approximately 100 m apart from the Ashikaga granodiorite, the heat source. Ages of sedimentary rocks were determined by radiolarians, and granodiorite by K-Ar radiometric dating of biotite.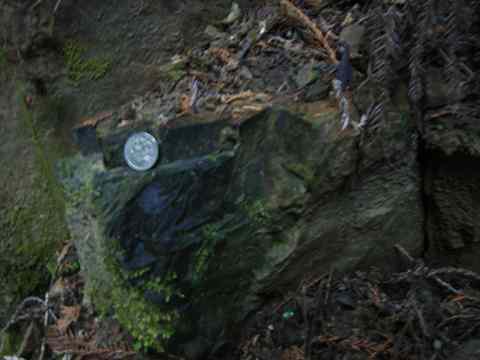 Outcrop of andalusite-hornfels formed by hornblende-hornfels facies metamorphism of mudstone, a matrix of the Kurohone-Kiryu Unit. The black outcrop is composed of andalusite-bearing hornfels, and flat schistosity was recognized. Andalusite is too small to see in this photograph but they are clear pale pink and aligned along schistosity.
Reported Minerals
Mineral Assemblages
Hornfels - Andalusite - Pyrite
Localities
Related Occurrences
Copyright (c) 2016 NariNari, All Rights Reserved.