Hiedano
Kakihana, Hiedano village, Kameoka city, Kyoto, Japan
Occurrence
Hornblende-hornfels facies contact metamorphic rocks
Mudstone has been subjected to Hornblende-hornfels facies metamorphism by intrusion of the Late Cretaceous (95 Ma) Gyojyayama granodiorite, and cordierite-bearing hornfels was formed. Cordierite was overgrown on the Indialite core formed in the process, altered to mica, and dispatched by weathering. Sector textures of the cross section are called as Sakura-ishi (Cherry blossom stone). This mudstone is the matrix of the Middle Jurassic (170 Ma) Kuroi Unit, an upper member of the Tamba accretionary complex. The Gyojyayama Granodiorite is S-type (Ilmenite-series). The Kuroi Unit corresponds to the Kanayama Unit of the Tamba-Mino-Ashio accretionary complex. Ages of sedimentary rocks were determined by radiolarians, and granodiorite by K-Ar radiometric dating.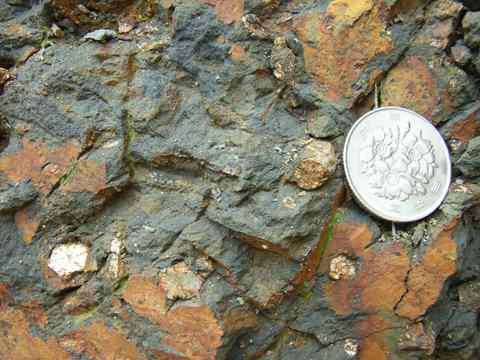 Outcrop of hornfels formed by hornblende-hornfels facis contact metamorphism of mudstone of the Kuroi Unit. Cerasite, mica after indialite-cordierite, is observed as white hexagonal crystals in weathered black hornfels. Cross section of these hexagonal prism shows the texture similar to petals of cherry blossom as cordierite was overgrown on the indialite core. Thus these cerasite crystals are called as "Sakura-ishi" (Cherry blossom stone) by local people. These "Sakura-ishi" are easily dispatched from the host hornfels by weathering.
Reported Minerals
Mineral Assemblages
Hornfels(Host) - Cerasite
Localities
Related Occurrences
Copyright (c) 2016 NariNari, All Rights Reserved.