Dainichi Mine
Ohinata, Sakuho city, Minami-Saku county, Nagano pref., Japan
Occurrence
Cr deposit in the serpentinite block of the Early Cretaceous Aptian (120 Ma) Ishido Formation contacting the Early Jurassic (175 Ma) Sumaizuku Unit, a member of the Northern Chichibu accretionary complex. The Ishido formation is the bottom member of the Sanchu Graben. This serpentinite block is one of the serpentinite blocks distributing along the boundary fault between the Sumaizuku Unit and the Ishido Formation, and its origin is considered as sedimentary serpentinite from serpentinite seamounts at the fore-arc slope. The Sumaizuku unit has been subjected to Prehnite-Pumpellyite facies metamorphism as a low grade part of the Sambagawa metamorphic belt in the Late Cretaceous (100 Ma). Ages of sedimentary rocks were determined by radiolarians, bivalvia, and ammonite. Metamorphic age was determined by K-Ar or Ar-Ar radiometric dating of muscovite.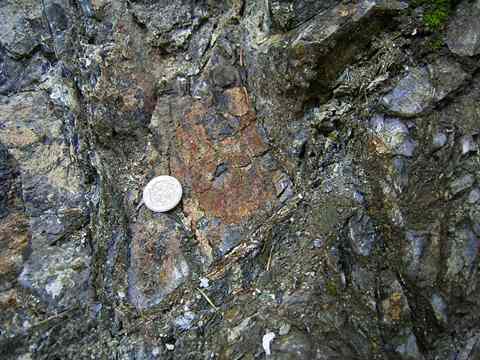 Outcrop of serpentine, the host of the Cr deposit, in the Ishido Formation. The dark green host is fragile serpentine. Thin white veins are composed of hydromagnesite and artinite. The brown crust on the serpentine surface is a vein of micaceous coalingite.
Reported Minerals
Chromite
Uvarovite
Kaemmererite
Dolomite
Aragonite
Artinite
Dypingite
Hydromagnesite
Coalingite
Mineral Assemblages
Serpentine - Chromite - Omphacite - Uvarovite
Serpentine - Coalingite
Serpentine - Hydromagnesite - Dypingite
Localities
Related Occurrences
Copyright (c) 2015 NariNari, All Rights Reserved.