Old mineral specimen of Japan
Kobutsu-Dokokai (Japan Mineral Collecting Club)
1930's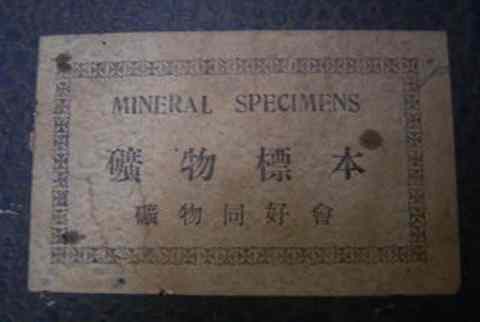 Label
Specimens were collected by Mr. Otokichi Nagashima. He supported Dr. Jombo to establish Saitama Museum of Natural History (Nagatoro, Saitama pref., Japan), and was contributed to the Wakabayashi Mineral Collection in University of Tokyo. He studied Japanese mineral occurences at RIKEN (Institute of Physical and Chemical Research, Saitama, Japan).
Otokichi Nagashima (1890-1969), Mineral collector, who is the etymology of Nagashimalite.
Kotora Jimbo (1867-1924), the first professor of mineralogy in University of Tokyo, who is the etymology of Jimboite.
Yaichiro Wakabayashi (1874-1943), economic geologist of Mitsubishi Mining Corp., who is the etymology of Wakabayashilite.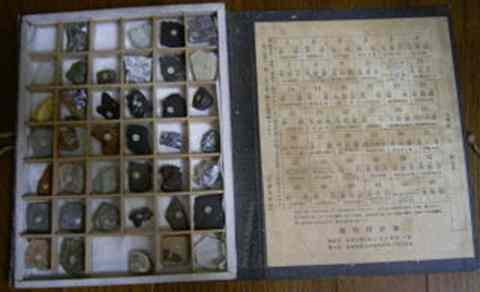 List of Specimen
Rock crystal: Mount Kimbu, Yamanashi (Lost)
Quartz: Ishikawa, Fukushima (Lost)
Agate: Hanaishi, Hokkaido
Fluorite: Kinka, Korea (Lost)
Calcite: Mount Futago, Saitama (Lost)
Limestone: Ohme, Tokyo
Marble: Akiyoshi, Yamaguchi
Pyrite (Sulfide ore): Kosaka Mine, Akita
Chalcopyrite: Ashio Mine, Tochigi
Granite: Mikage, Hyodo
Muscovite: Hakumen, Korea
Biotite: Ishikawa, Fukushima
Orthoclase: Ishikawa, Fukushima
Sulfur: Mount Nasu, Tochigi
Graphite: Kohryo, Korea (Lost)
Hard coal: China
Coal: Yubari, Hokkaido
Brown coal: Kozoji, Aichi
Magnetite: Ohinata, Nagano
Iron sand: Kuji, Iwate
Hematite: North China (Lost)
Limonite: Jyojiho Mine, Korea
Cassiterite: Naegi, Gifu (Lost)
Galena: Budo Mine, Niigata
Sphalerite: Budo Mine, Niigata
Bauxite: India
Gold ore: Toi Mine, Shizuoka
Argentite: Rendaiji Mine, Shizuoka
Ropy lava: Lake Sai, Yamanashi
Lapilli: Ohshima Island, Tokyo
Hot spring sediments: Beppu, Ohita (Lost)
Pyroxene andesite: Suwa, Nagano
Hornblende andesite: Kamazawa, Niigata
Pumice: Niijima Island, Tokyo
Obsidian: Obihiro, Hokkaido
Mudstone: Itsukaichi, Tokyo
Slate: Okatsuhama, Miyagi
Sandstone: Choshi, Chiba
Conglomerate: Mount Iwadono, Yamanashi
Tuff: Ohya, Tochigi (Lost)
Fossil of shell fish (Tertiary, Cenozoic): Tsukiyoshi, Gifu
Fossil of fusulinid (Paleozoic): Kuzuu, Tochigi (Lost)
Streak plate
Copyright (c) 2015 NariNari, All Rights Reserved.