Chausu Peak of Mount Nasu
Mount Nasu, Yumoto, Nasu city, Nasu county, Tochigi pref., Japan
Synonym
Mount Chausu-Dake
Occurrence
Sulfate minerals at the fumarole in the crater associated with the early Holocene (10 ka) Chausu-Dake Lava Dome of Nasu Volcano. The Chausu-Dake Lava Dome is composed of andesite, and is associated with approximately 10 craters, the Chausu-Dake Craters. Nasu Volcano has been active since the Middle Pleistoene (0.4 Ma). The age of the lava dome was determined by radiocarbon dating.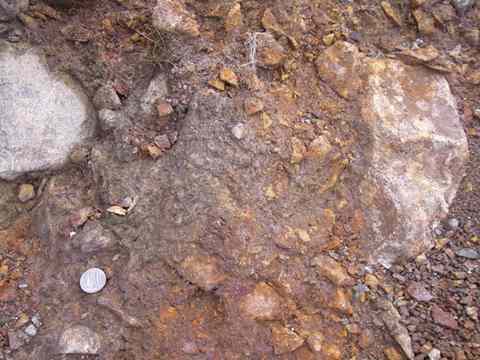 Outcrop near a fumarole emitting water vapor in the active crater. The yellowish-brown crusts on the surface are aggregates of fine jarosite crystals. The grayish-white basement is andesite of the Chausu-Dake Lava Dome. It is considered that jarosite was deposited from cooled water vapor of the fumarole.
Reported Minerals
Siliceous sinter
Jarosite
Alunite
Crandallite?
History
1397: Erupted.
1408-1410: Erupted.
1846: Erupted.
1881: Erupted.
1953: Erupted.
1960: Erupted.
1963: Erupted.
Copyright (c) 2015 NariNari, All Rights Reserved.