Lake Kuttara
Kojohama, Shiraoi city, Shiraoi county, Iburi branch, Hokkaido, Japan
Occurrence
Phenocrysts in lava of basaltic andesite erupted from the Takeura Volcano (Mount Kuttara), a somma of the Kuttara Caldera and a member of the Kuttara Volcanic Group which has been active since Late Pleistocene (80 ka). The Takeura Volcano is a small stratovolcano formed in the Late Pleistocene (47 ka) Takeura Stage before the formation of the Kuttara Caldera.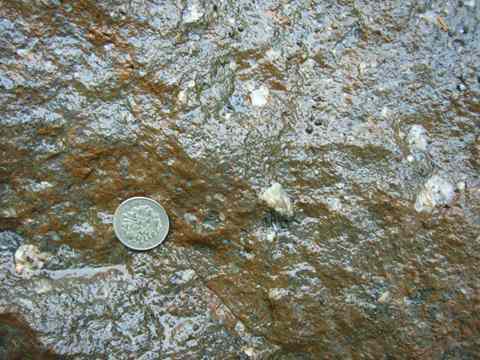 Outcrop of the basaltic andesite lava erupted from the Takeura Volcano. White grains are euhedral anorthite. There are dark brown grains of forsterite in white anorthite.
Reported Minerals
Mineral Assemblages
Basaltic andesite (Host) - Anorthite - Forsterite
Localities
Related Occurrences
Copyright (c) 2020 NariNari, All Rights Reserved.