Taiji seashore
Taiji, Taiji city, Higashi-Muro county, Wakayama pref., Japan
Occurrence
Marine oxidation zone of moderate-T hydrothermal deposit
Marine oxidation zone of moderate temperature hydrothermal deposit in the early Miocene (17 Ma) Shimosato Formation by the middle Miocene (14 Ma) quartz porphyry, a part of the arc-shaped dike associated with the Kumano Rhyolites (Kumano Acidic Rocks). The Shimosato Formation is the top bed of the deep to shallow marine facies Kumano Group. The Kumano Rhyolites is considered as the pyroclastic flow from the Miocene Kumano Caldera. Ages of sedimentary rocks were determined by microfossils, volcanic rocks by K-Ar radiometric dating of biotite and fission track dating of zircon.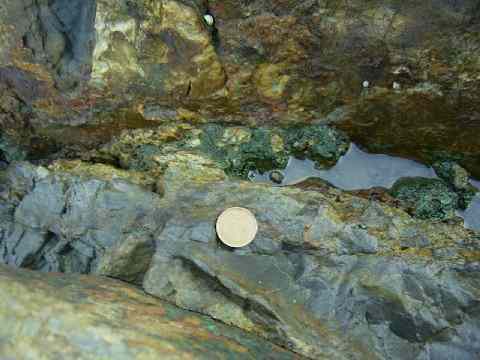 Outcrop of marine oxidation zone of the hydrothermal deposit in mudstone of the Shimosato Formation. The green part above the coin is the paratacamite vein. The black host is mudstone, and brown crusts are limonite formed by oxidation of Fe in the deposit. Paratacamite, Cl-bearing secondary mineral, was formed by the reaction of chalcopyrite with Cl in seawater.
Reported Minerals
Mineral Assemblages
Localities
Related Occurrences
Copyright (c) 2016 NariNari, All Rights Reserved.