Warm-temperate climate
Index plants
Chinquapins (Castanopsis sp.), Oaks (Quercus sp.)
Averate temperature
Warmer average temperature under the conditon of the lowest temperature in the coldest month is more than -3 °C (27 °F) and less than 18 °C (64 °F)
North/South altitude
Southern part of 35 - 66.5 ° latitude
Overview
Four seasons in a year. Climax forest is composed of evergreen broad-leaved trees but deciduous broad-leaved trees are dominant in colline zones by anthropogenic disturbances.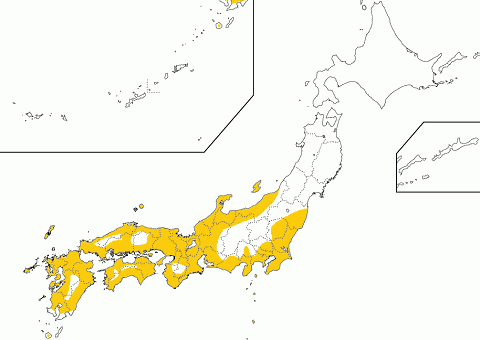 Distribution of warm-temperate climate in modern Japan. It distributes along the coastal area at the central Honshu island by the influence of warm sea currents.
Flora
Climate (Lateral)
Climate (Vertical)
Copyright (c) 2018 NariNari, All Rights Reserved.