Numajiri Mine
Numanodaira, Inawashiro city, Yama county, Fukushima pref., Japan
Source for sulphur and Sulphuric acid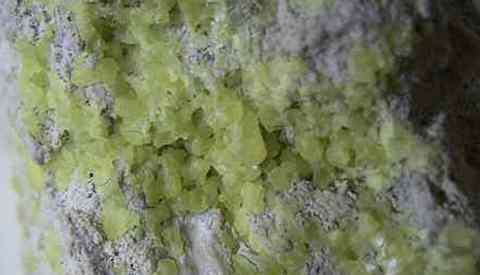 Field of view: 30 mm. Massive sulphur. The massive yellow parts with a resinous luster are sulphur. The porous white host is andesite altered by volcanic gas.

Recovered from an active fumarole of a stratovolcano.

Sulphur from this location was described in 1937.

Sulphur was formed by reacting H2S in volcanic gas with O2 in air:

2H2S + 3O2 = 2H2O + 2SO2

SO2 + 2H2S = 3S (Sulphur) + 2H2O

Copyright (c) 2020 NariNari, All Rights Reserved.