Obira-Kozan, Ogata, Bungo-Ono city, Oita pref., Japan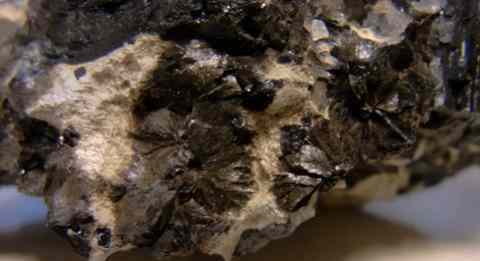 Field of view: 50 mm. Stilpnomelane associated with grunerite. The radial groups of platy dark brown crystals are stilpnomelane. The surrounding massive pale brown parts are aggregate of fine grunerite crystals. The black parts with a resinous luster at the top are ilvaite.
Recovered from skarn formed by S-type (Ilmenite-series) granite of the caldera complex. Formed in the middle Miocene (14 Ma).
Stilpnomelane from this location was described in 1955.
Other localities
Obira Mine (Pneumatolytic Skarn, Radial)
Matsunaga Mine (High-P metamorphic, Radial)
Kami-Nagatoro (High-P metamorphic, Micaceous)
Copyright (c) 2017 NariNari, All Rights Reserved.