Shimo-jinya village, Seto city, Aichi pref., Japan
Synonym
Gosu-do
Source for "Gosu", cobalt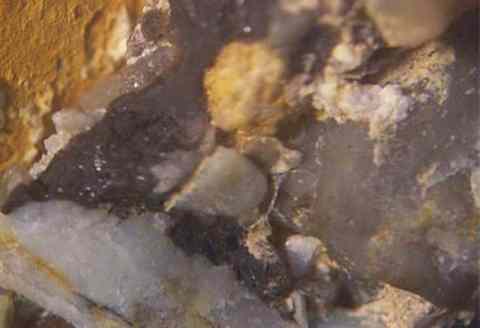 Field of view: 10 mm. Co-bearing Lithiophorite associated with conglomerate. The black crusts on pebbles of conglomerate are lithiophorite. The white parts are chert pebbles of conglomerate, and the brown part is mudstone. Co-bearing lithiophorite, Gosu-do, has been used to dye China in Japan and China since the ancient times.
Recovered from conglomerate, a part of lacustrine sediments in a freshwater lake.
The first Co-bearing lithiophorite from Japan was reported from this location in 1875.
Other localities
Shimo-Jinya (Conglomerate, Interstitial)
Masaka (Chert, Dendritic)
Mount Orihime (Chert, Dendritic)
Copyright (c) 2017 NariNari, All Rights Reserved.