Otaki, Chichibu city, Saitama pref., Japan
Source for phosphorous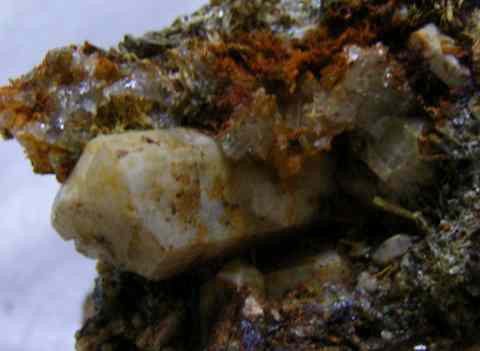 Field of view: 20 mm. Hydroxylapatite associated with hedenbergite. The hexagonal opaque white prism is hydroxylapatite. Chlorapatite is partly included. The translucent part at the upperleft is quartz. The black grains at the bottom and at the right are magnetite. The brown parts are limonite crusts. The green host is hedenbergite partly encrusted with limonite.

Recovered from a moderately low-temperature hydrothermal deposit combined with skarn formed by contact metamorphism of I-type (magnetite-series) quartz diorite. Formed in the late Miocene (6 Ma).

Hydroxylapatite from this location was described in 1928.

Copyright (c) 2017 NariNari, All Rights Reserved.