Fuji Mine
Kami-Kurechi, Fuji-Yoshida city, Yamanashi pref., Japan
Synonym
Shimomiya Mine, Kinpu Mine
Occurrence
Iron sandstone in the middle Miocene (15 Ma) Ozawa Member of the Otsuki Formation, the Tsuru Group. The Ozawa Member is the bottom member of the Otsuki Formation, and unconformably overlies the Akiyama Formation of the Tsuru Group. The Ozawa Member is conformably underlies the Saruhashi member of the Tsuru Group. The Saruhashi Member is considered as sendiments in a brackish fan delta near the andesite-dacite submarine volcano. This Ozawa Member has been known as the Pliocene Furuya Formation of the Nishikatsura Group or the Saruhashi Formation, the Saruhashi Member as the Pliocene Katsura Formation of the Nishikatsura Group or the Iwadonosan Formation. Classification may be changed in future. Ages of sedimentary rocks were determined by microfossils.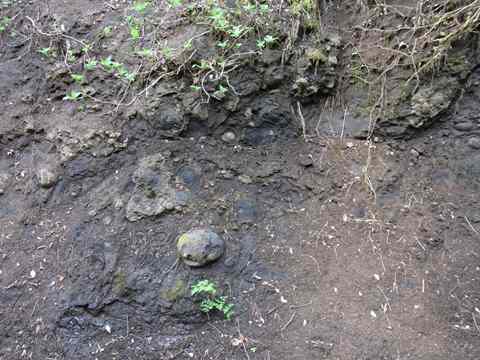 Outcrop of tuffaceous sandstone of the Ozawa Member, Otsuki Formation. This outcrop underlies the bed producing Tertiary bivalvia fossils. The tuffaceous sandstone is very fragile, and darker parts are rich in magnetite. Pebble-like structures on the surface is the onion structure formed by weathering. There were magetite deposits just above this outcrop, and those beds were mined during World War II. Width of photograph is approximately 1.5 m.
Reported Minerals
Mineral Assemblages
History
1937: Mr. Yoshinobu Ozawa found the deposit.
1938 - 1939: Eastern area was mined as Shimomiya Mine, and sold 300 ton ore.
1938 - 1945: Western area was mined as Kinpu Mine by Mr. Kumazawa, and sold 25,000 ton ore.
1954: Fuji Mine began to prospect the deposits.
1955: The mine was closed after producing 158 ton ore in May, 100 ton ore in June, and 400 ton ore in July.
Localities
Related Occurrences
Copyright (c) 2015 NariNari, All Rights Reserved.