Nanasawa
Nanasawa, Atsugi city, Kanagawa pref., Japan
Occurrence
Low-temperature zeolite facies metamorphic rocks
Basaltic-Andesitic-Dacitic lava and tuff breccia of the late Miocene (10 Ma) Susugaya Subgroup, the Tanzawa Group, subjected to Zeolite facies metamorphism by quartz diorite in the late Miocene to Pliocene (10-5 Ma). The Tanzawa Group is considered as the accreted Izu island arc. Approximately 10 km apart from quartz diorite, the heat source. Ages of sedimentary rocks were determined by microfossils, quartz diorite by radiometric dating.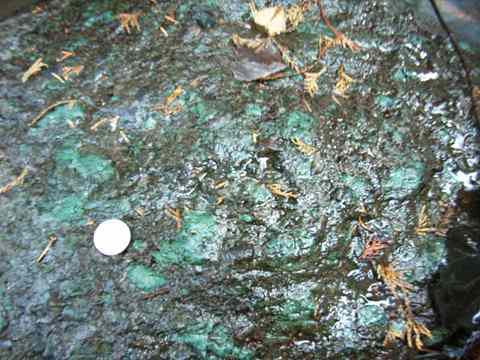 Outcrop of tuff breccia of the Susugaya Subgroup. Groundmass of andesite pebbles in tuff breccia was altered to celadonite by Zeolite facies metamophism. The bluish-green pebbles are massive celadonite formed from andesite pebbles, and plagioclase crystals are included as residue. The surrounding dark gray matrix is fine grain tuff. This celadonite was dealt as semi-precious stone in ancient time, and is often found as necklaces in old burial mounds.
Reported Minerals
Mineral Assemblages
Celadonite - Plagioclase(Residue)
Localities
Related Occurrences
Copyright (c) 2013 NariNari, All Rights Reserved.