Karasawa Mine
Itaga, Kanuma city, Tochigi pref., Japan
Occurrence
W-Bi pneumatolytic deposit associated with the early Paleocene (63 Ma) Karasawa Granodiorite intruded in the Late Jurassic (145 Ma) Kurohone-Kiryu Unit. The Karasawa granodiorite is S-type (Ilmenite-series). The Kurohone-Kiryu Unit corresponds to the Kanayama Unit of the Tamba-Mino-Ashio accretionary complex. Ages of sedimentary rocks were determined by radiolarians, and granodiorite by K-Ar radiometric dating of muscovite and biotite.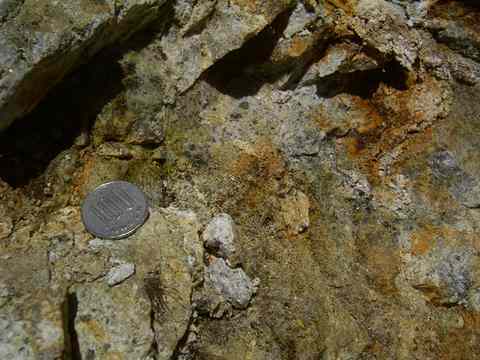 Outcrop of the Karasawa Granodiorite, the host of a W-Bi pneumatolytic deposit. The silver-white muscovite was formed in the granodiorite by strong alteration. The brown part at the upper right is the ilmonite crust formed by weathering of sulfide minerals.
Reported Minerals
Bismuth
Joséite(Joseite)
Ferberite
Bismutite
Bismuthinite
Muscovite
Schorl
Mineral Assemblages
Quartz - Bismuth - Bismutite
Quartz - Joséite(Joseite)
Quartz - Ferberite
Locality
Related Occurrences
Copyright (c) 2015 NariNari, All Rights Reserved.