Kasuga-Mitsuka, Ibigawa city, Ibi county, Gifu pref., Japan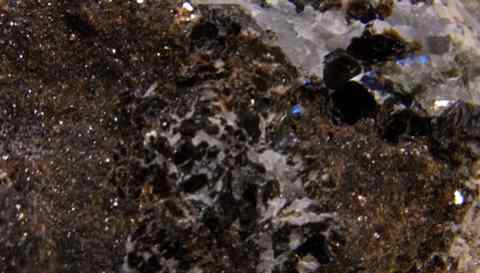 Field of view: 20 mm. Phlogopite associated with dolomite. The micaceous dark brown crystals scattered in the specimen are phlogpite. The white parts are dolomite. Phlogopite at the boundary of dolomite and fine phlogopite aggregate exhibits hexagonal tabular habit.
Recovered from dolomite skarn formed by contact metamorphism of S-type (Ilmenite-series) granite. Formed in the Late Cretaceous (96 Ma).
Phlogopite from this location was described in 1960.
Other localities
Taguchi Mine (Mn Skarn)
Kasuga Mine (Dolomite Skarn)
Hotokezaki (Dolomite Skarn)
Ishibaiyama (Dolomite Skarn)
Mount Hiiragi (Dolomite Skarn)
Related
Copyright (c) 2017 NariNari, All Rights Reserved.